Firmware naar ESP-01 Flashen
Om de firmware naar de ESP-01 (Black/S) te kunnen flashen moet deze eerst voor deze ESP-01 geschikt worden gemaakt.
Dit doen we door vóór de #define HAS_NO_METER twee slashes (//) te zetten.
/******************** change this for testing only **********************************/
// #define HAS_NO_METER          // define if No "Slimme Meter" is attached
/******************** don't change enything below this comment **********************/


Vervolgens moeten de [Boards] settings als volgt worden ingevuld:
Instelling
Waarde
Board
"Generic ESP8266 Module"
Upload Speed
"115200"
CPU Frequency
"80MHz"
Flash Frequency
"40MHz"
Flash Mode
"DOUT (compatible)"
Flash Size
"1M (256K SPIFFS)"
Crystal Frequency
"26MHz"
Reset Method
"None"
Debug Port
"Disabled"
Debug Level
"None"
IwIP Variant
"v2 Lower Memory"
VTables
"Flash"
Exeptions
"Disabled"
Builtin Led
ESP-01 (Black): "1"
ESP-01S: "2"
Erase Flash
"Only Sketch"
(First Time: "All Flash Contents")
Port
Bedraad: "Serial Port"
OTA: "Netwerk Port"
Stop de ESP-01 in de programmer ( hier vind je een post over hoe je van een USB to ESP-01 Adapter zelf eenvoudig een programmer kunt maken) en sluit deze aan op je computer. Vergeet niet de juiste Port te selecteren en druk op het Compile and Upload icoon.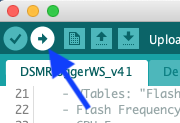 ---
[DSMR Onderhoud]