Firmware naar DSMR-logger v3 Flashen
Let op!
De DSMR-logger Versie 3 maakt gebruik van een ESP-01 bordje met 1MB flash geheugen. Vanwege de omvang van de DSMRloggerWS firmware is deze alleen met beperkte functionaliteit geschikt om naar een ESP-01 te worden ge-upload. Met een ESP-01(Black/S) is het niet mogelijk om
Over The Air
updates van de firmware of SPIFFS te doen.
Ook de
RTS
hardware en de
I2C
interface (oled-scherm) zijn voor de ESP-01 niet beschikbaar.
Om de firmware naar de ESP-01 (Black/S) te kunnen flashen moet deze eerst voor de ESP-01 geschikt worden gemaakt.
Dit doe je door vóór de #define's twee slashes (//) te zetten. In de ArduinoIDE zien de regels na /*** compiler options ***/ er dan zó uit:
/******************** compiler options  ********************************************/
//  #define IS_ESP12                  // define if it's an ESP-12
//  #define USE_UPDATE_SERVER         // define if updateServer to be used and there is enough memory
//  #define HAS_OLED_SSD1306          // define if an OLED display is present
//  #define SM_GIVES_NO_TIMESTAMP     // define to generate Timestamp from NTP (Only Winter Time)
//  #define SHOW_PSK_KEY              // well .. show the PSK key, what else?
//  #define HAS_NO_METER              // define if No "Slimme Meter" is attached (*TESTING*)
/******************** don't change anything below this comment **********************/


Let op!
Mocht je een ESP-01 bordje met een
PUYA
flash chip hebben, dan moet je nog wat doen om SPIFFS met deze PUYA chip te laten werken. Kijk
hier
wat je moet doen.
Vervolgens moeten de [Boards] settings als volgt worden ingevuld:
Instelling
Waarde
Board
"Generic ESP8266 Module"
Upload Speed
"115200"
CPU Frequency
"80MHz"
Flash Frequency
"40MHz"
Flash Mode
"DOUT (compatible)"
Flash Size
"1M (256K SPIFFS)"
Crystal Frequency
"26MHz"
Reset Method
"None" (afhankelijk van de gebruikte programmer)
Debug Port
"Disabled"
Debug Level
"None"
IwIP Variant
"v2 Lower Memory"
VTables
"Flash"
Exeptions
"Disabled"
Builtin Led
ESP-01 (Black): "1"
ESP-01S: "2"
Erase Flash
"Only Sketch"
(First Time "All Flash Contents")
Port
Bedraad: "Serial Port"
Stop de ESP-01 in de programmer ( hier vind je een post over hoe je van een USB to ESP-01 Adapter zelf eenvoudig een programmer kunt maken) en sluit deze aan op je computer. Vergeet niet de juiste Port te selecteren en druk op het Compile and Upload icoon.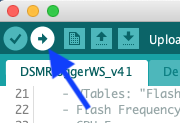 ---
[DSMR-Editor]